GRAPHIC DESIGN AND BRANDING
ELEVATED.
Eye-popping graphic design and branding are the face your business presents to the world. From creating the brand logo to the brand colors to the complete brand style guide, a skilled graphic design team is essential to presenting your company's best self to both current and potential customers. Elevantics is a marketing agency that specializes in quality, custom graphic design that highlights your business's advantages.
Logos, fonts, colors, illustrations, and photos comprise the graphic design canvas from which our team sculpts your brand into the work of art your company deserves. We're standing by to collaborate with your team to make sure your website, social media profiles, brochures, business cards, and more capture your brand and impress your customers.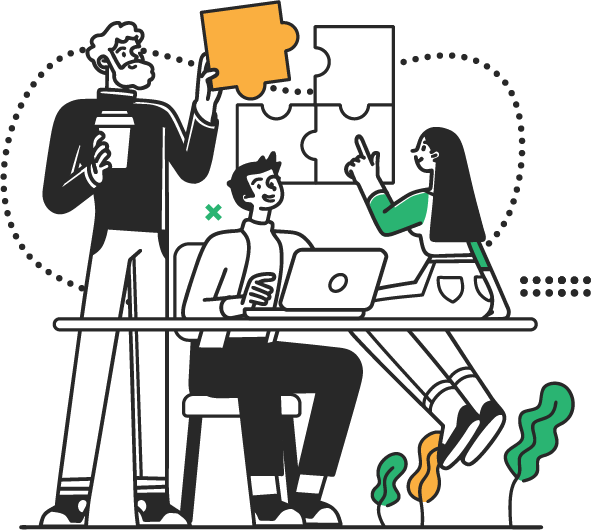 Have Questions About Our Graphic Design Services? We've Got Answers.
THE ELEVANTICS GRAPHIC DESIGN DIFFERENCE
Graphic design and branding are the first thing your customers see that set you apart from your competition. Elevantics ensures that your marketing materials feature custom graphic design and branding work that present the image you need your customers to see.
Our experienced graphic design team works closely with your company to create brand designs and graphics that inspire your team and wow your customers. We capture the values and appeal of your brand with images and reinforce positive impressions of your business from your customers first impression to their last.
THE ELEVANTICS WEB DEVELOPMENT DIFFERENCE
Not all websites are created equal. When Elevantics designs and develops a new website, we bring decades of combined experience to the process to ensure that your new site is cutting-edge, easy to use, and primed for success.
REFRESHING CHEAP GRAPHIC DESIGN?
Cheap graphic design makes your brand look cheap. That's not what Elevantics offers. Our experienced graphic designers replace cheap graphic design with affordable, custom branding and images to position your business as a serious competitor in your industry.
VISIONARY REBRANDING
Even the world's most successful brands refresh their logos, brand colors, and brand names regularly in order to stay current. Elevantics is a team of visionary creatives that can help your business refresh its brand with sharp, modern designs.
BRAND LOGO DESIGN
If your brand logo doesn't reflect the quality of your business, you've got a problem. Let our graphic design team help you solve it! We'll work closely with you to design a new brand logo that stands out from the pack and communicates your brand value to customers at a glance.
MARKETING PHOTO DESIGN
Quality photography is key to a successful brand image. Elevantics' graphic design team is ready to lead your business's photo strategy to produce quality photography and stock images that illustrate the best version of your team and its value to customers.
MARKETING VIDEO DESIGN
Nothing attracts interest and engagement online like high-quality video. Our team specializes in spearheading video production that captures what you do best in both long videos and short videos for use across all of your digital marketing channels.
MARKETING COLLATERAL DESIGN
Yes, marketing collateral like business cards, brochures, direct mail, and more still work in the digital era! They just have to work harder to stand out. That's where Elevantics comes in. We can design and print marketing collateral you'll be proud to send home with potential customers.
Elevantics is a full-service marketing agency providing professional graphic design and branding services for large and small businesses. Need our help? Just ask!